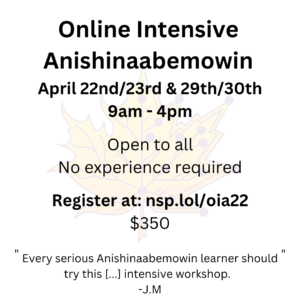 The aim of this program is to equip participants with the knowledge to be independent community based learners. By understanding all the little pieces, the hope is that students will go on to continue their learning in a meaningful way. Student will be able to better learn from other texts because of this foundational knowledge. Participants will learn to make use of the dictionary and the resources provided to be able to say what they want to communicate and be a community based learner. 
Throughout the workshop, we will use various internet based applications such as: zoom, google forms, google docs, and quizlet. 
About the facilitator: Ninaatig has spent over ten years learning Anishinaabemowin and has taught at the community, elementary, and post-secondary level for the past five years. His master research centred on teaching Anishinaabemowin grammar in a high-impact way based on his action research. Ninaatig approaches this work with love—for the language, his fellow Anishinaabeg, and those yet to come.